Roulette
Next to Blackjack, Roulette is one of the more recognized and popular modern Casino games. Bets are placed on the table marked with boxes containing individual numbers.
Once a bet is placed, the wheel is spun and the ball released. The winning number is determined by where the ball stops.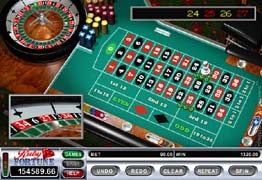 Roulette Royale
Roulette Royale is based on standard Roulette, and has a side bet that makes you eligible for additional payouts, one of which is the Progressive Jackpot. To play Roulette Royale you need to be a Real Account user.
The side bet is compulsory and is fixed at one credit. The side bet area on the table is marked with Jackpot Side Bet.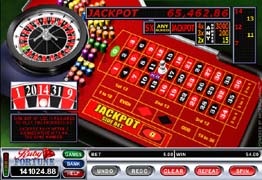 Description and Objective
Roulette is one of the oldest and most popular casino games in the world. It is also one of the simplest to play. The game of American Roulette consists of a wheel with 38 stops, and a ball that can land with equal chance in any of those stops.
Players make wagers by placing chips in the betting areas of the Roulette table. After all bets are placed, the ball is spun and eventually lands on a number. Wagers placed on the winning number or on groups that include the winning number are paid a multiple of the bet. The house collects all other wagers.
Game Play
To play the game of Roulette, place your bets by placing chips on the Roulette table.
Click the casino chip icons to add chips to your hand.(Click the chips in your hand to remove them.)
To place a bet, click on the region of the table for the type of bet you wish to place. The chips in your hand will be placed on the table. To remove a bet from the table, right click on the bet. The amount of chips in your hand will be removed from the stack on the table.
When you have finished placing bets on the table, click the Spin button or click the wheel to start the ball spinning. After the ball lands on a number, losing bets are removed from the table, and winning bets are paid.
If you wish to bet on the same numbers again for the next spin, press the Repeat Bet button and all of your previous bets will be placed again.
Types of Bets and Payouts
There are 16 types of bets in Roulette. By placing the chips differently, you can bet on 1, 2, 3, 4, 5, 6, 12 or 18 numbers.
The following table is a list of the types of bets and the corresponding payouts for a winning bet.
| Bet Category | Payout |
| --- | --- |
| Even | 1:1 |
| Odd | 1:1 |
| Red | 1:1 |
| Black | 1:1 |
| 1-18 | 1:1 |
| 19-36 | 1:1 |
| 1-12 | 2:1 |
| 13-24 | 2:1 |
| 25-36 | 2:1 |
| Any Column | 2:1 |
| Any Number | 35:1 |
| Two-number combination | 17:1 |
| Three-number combination | 11:1 |
| Four-number combination | 8:1 |
| Five-number combination | 6:1 |
| Six-number combination | 5:1 |